Managed Services for SAP on IBM

i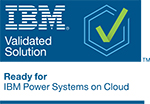 Datanational Corporation, as an IBM Managed Service Provider, has the knowledge and experience to provide around-the-clock system management, monitoring, administration and data protection services for your SAP implementation on the IBM i (AS/400, iSeries) platform. For the past several years, Datanational has worked with the IBM SAP Competency Team out of Rochester, MN to deliver state of the art SAP configurations for the IBM System i platform. In addition to new system sizing and configurations, our solution portfolio includes:

The Datanational
Advantage
Datanational is well positioned to help you meet the growing business demands of today. We will work with you to identify the areas within your business processes that would benefit from our approach. We concentrate on delivering results to our clients. Proper project planning ensures that deadlines are met and overall implementation costs are reduced. Our goal is to minimize your problems and maximize your investments.
If Javascript is disabled, click to fill out
online form
.