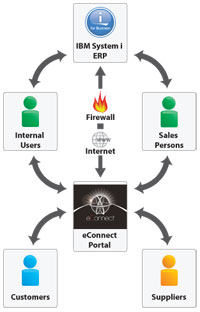 e

Connect Portal
e

Business Made Simple
Datanational's eConnect Portals are Java-based eBusiness solutions that can reside on one of your servers or on a web server that is hosted and managed around the clock by Datanational's technical support team. It can be configured for tight integration with iSeries (AS/400) ERP systems, leveraging the existing centralized data source for all pertinent master files and customer order records. A turn-key solution can be deployed within a Software-as-a-Service (SaaS) framework, providing you with additional options as you consider the impact on your capital versus operational budgets.
Customer Portal
Deliver superior customer service at a reduced cost
With Datanational's eConnect Customer Portal, you can focus your resources on solutions that will increase your top-line revenue growth by providing improvements to Customer Service in order to create new sales opportunities. You will have a very effective business tool to provide increased customer service while reducing customer service labor hours and cost.
---
Supplier Portal
Improve your supplier business management
With Datanational's eConnect Supplier Portal, you will deliver on-line visibility of purchase orders on your system to your suppliers in a secure, web-based portal. In addition to a web-based purchase order inquiry, your authorized suppliers can also electronically acknowledge purchase orders, update scheduled delivery times, update product lead times and report shipments against their scheduled purchase orders or even the individual PO lines.
---