IBM

i

System Monitoring Services
Datanational's team of IBM i System experts are dedicated to checking your system on a routine basis to ensure jobs are running as expected and alerting your team of messages that may be a threat to your business processes. Our team works around the clock 7x24x365 so that you are now able to be more comfortable knowing there is a team watching and listening to your system while you carry on with your daily business objectives.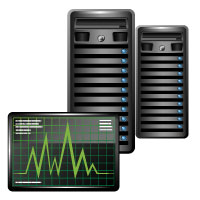 Datanational's expert and dedicated Managed Services team works 24/7 to make sure you are not worrying about the uptime status of your IBM i System(s). Our nightly monitoring delivers increased uptime, greater system availability and reduces the total cost of operation. Our monitoring service ensures jobs are running as expected and we alert your team of messages that may become issues impacting your system availability.
Under a typical scope of engagement, Datanational will be providing monitoring software licensing and setting up active IBM i system monitoring to proactively manage server health and receive notifications of systems operating outside of desired measures. Datanational's IBM System i monitoring service includes:
Monitoring of system messages in the System Operator Message Queue (QSYSOPR) and/or other message queues specified in the SOP
Notification monitoring by Datanational Managed Services Personnel
Backup monitoring of remote to disk backups
Communications Monitoring
Communication Traces and Problem Identification/Resolution
Creation of problem tickets in the Datanational Help Desk System
24/7 Notifications for named contacts of critical system conditions
Our IBM i system monitoring services are like your nightly fire department. We are at work while you and your staff are off duty. We reduce your operating cost while improving your uptime and increasing your level of service. Your single IT support person, even if they are a hardened IT veteran, cannot effectively provide coverage around the clock every day of the week, including vacations and unplanned time off. Alternatively, if you have (or are considering implementing) multiple shifts of system administrators managing and monitoring your System i ERP operation, these manually performed duties can be automated and managed by an exception monitoring service from Datanational Corporation.
In addition to AS400 System Monitoring, Datanational offers System Management, Hosting and Support around the clock. Our expert staff is on duty 7x24x365. We are committed to keeping systems up and running and deliver enterprise class service through a best in class support structure with our dedicated team.
The Datanational Advantage
As a multi-platform services provider and system integrator, we have the expertise to monitor, manage and host mission-critical application systems around the clock. We provide a broad base of service offerings, including hardware, operating system and application software expertise. This combination of skills delivers a wide range of available solutions to our client base.
If Javascript is disabled, please click to fill out
contact form
.