Datanational Corporation Accepted into
'Ready for IBM Power Systems on Cloud' Program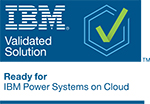 Farmington Hills, MI. - Datanational Corporation, a leading provider of Enterprise Systems Managed Services Support, has been accepted into an exclusive Ready for IBM Power Systems on Cloud Program. The Ready for IBM Power Systems on Cloud Initiative acceptance demonstrates our expertise and commitment to delivering cloud solutions which are validated on IBM Power Systems technology and help our clients with their journey to the hybrid multi-cloud era.
We've been leveraging IBM Power Systems to deliver multi-cloud solutions for over 10 years. Its flexibility and performance has been extraordinary, allowing us to differentiate our solutions. Joining the Ready for IBM Power Systems program, we are able to show our expertise and partnership with IBM to our clients and prospects with assurances and a proven track record that our solutions comply with IBM's technical integration standards.
Datanational Corporation, as an IBM Managed Services Provider (MSP), delivers cloud optimization by combining our around-the-clock expert support services with IBM Power Systems. The Ready for IBM Power Systems on Cloud program underlines our expertise and client success in the multicloud era and our commitment to delivering solutions around Power Systems and IBM Cloud.
To learn more about Datanational's IBM partnership, visit https://www.datanat.com/Solutions/IBMSolutionsSupport.php
Datanational Corporation is the premier vendor of choice for customers looking for technology solutions. Our years of experience, diverse skill set, and hands-on approach allow us to successfully deliver the desired results based on our customers' requirements. Our continued technology focus provides us with the ability to become not only an IT solution provider, but also a Technology Partner. Visit us on the web at www.datanat.com, or contact us via email at sales@datanat.com.
Continue to IBM Solutions and Support